100% design.
100% comfort.
0 energy.
Being on the move and causing as little harm to the environment as possible.
Our family-run hotel is not only the highest hotel building on the lake but also offers many other superlatives in terms of sustainable construction and energy efficiency.
Here you can find out which measures we use to keep your ecological footprint as small as possible during your holiday or business trip, without you having to sacrifice comfort or luxury.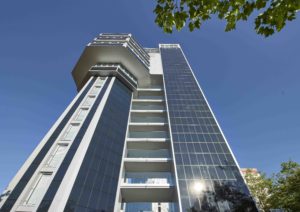 Ecology
Economy
Through regional, sustainable and responsible added value in the project conception, it has not only been possible to develop a building with an ecological model character, but also to consider economic and social aspects. This is achieved through the Räffle family's own immense contribution and the awarding of contracts to local specialist companies and national product manufacturers, as well as the moderate limitation of their own return and growth targets.
Social affairs
The water tower in Radolfzell on Lake Constance was built, like many other water towers, in 1956 for water storage. The tower was closed down in 1979, which meant that it lost its function as a high-level water reservoir. More than 30 years of decay have left unmistakable external traces and obliged us to put this production-intensive, unused structure to a new use. Above all, the breathtaking view should be made accessible to the public, in order to make the citizens aware of the unique landscape in which we all live.
Only the touristic use of the building will enable the integration into the urban and social environment.
The aquaTurm can justifiably be called a crazy family project. Over a planning period of 20 years and a construction period of 7 years, more than 80% of the work to be carried out was carried out by the Räffle family with only two employees. Nearly all the building products used in the aquaTurm come from Germany. Above all, the knowledge and experience gained during the planning, construction and operation of the aquaTurm is passed on in many ways through energy house tours in the aquaTurm, specialist lectures and scientific connections to universities.
It is only through our motivated and cordial staff that the aquaTurm is brought to life as a family-run hotel. Our employees are the heart and soul of the aquaTurm and are the most important thing for our hotel business with its guests. For this reason, we let our employees share in the economic success of the hotel through success- and health-oriented work and pay salaries that are above the standard rates.
We offer sustainable luxury and comfort with a clear conscience.
Sustainable travel
Stay in one of the most energy efficient hotels in the world!